On the internet you can find a lot of web pages with information and tips of things to do, where to eat and what to see. This guest info includes recommendations from us working in Palma Suites, our places where we like to go. I hope it will be useful for you and if you pop-up at any place that you would like to add – please let us know!
Enjoy your stay in Palma and Palma Suites!
Mats Jakobsson
General Manager
FRUKOST
Börja dagen på bästa sätt med vår läckra och hälsosamma frukost!
Vi har valt färska och lokalt producerade produkter direkt från den lokala marknaden och vi serverar frukosten direkt vid ditt bord. Ingen trängsel runt något buffébord.
If you have a reservation with breakfast included the breakfast is served on the ground floor between 08.00-10.00. If you don't have breakfast included you can order the day before, not later than 20.00.
The price is 15 euro per person. If you have an early morning flight, please tell us and we will prepare something for you to eat before checking out.
Palma Suites hälsosamma frukost serveras mellan kl. 08.00 och 10.00 och inkluderar följande;
– Coffee or tea the way you want it
– Freshly squeezed juice
– The daily variety of egg on homemade dark bread – Avocado topping with tomato or cucumber on homemade dark bread 
– Salami
– Jambon York (cooked ham)
– Jambon serrano (dried ham)
– Mahon cheese (Menorca cheese)
– Ciabatta bread and butter
– Yogurt with berries and homemade muesli
– Fresh fruit

You can also order a breakfast basket to your room!
Wi-Fi & room technolgy
Our Wi-Fi is called PALMA_SUITES_WPA and the password is happy@ps
In your room you can connect your PC to the TV via the Media Jack on the wall, also you have the option of Bluetooth ( first press the button on the media jack and then insert the code that appears on the tv screen into your device) and watch your one favorite program or listen to your best playlist.
På TV-enheten som är väggmonterad hittar du ett brett utbud av "on demand" filmer och internationella kabel-kanaler. Det finns även en integrerad Skype-funktion vilket gör att gäster kan enkelt hålla kontakten med familj och vänner. Våra lägenheter är även inredda med bekväma soffor och fåtöljer för maximal avkoppling.
roof top terrace
Our roof top terrace is open daily from 09.00-24.00. On the terrace you will find towels and drinks to buy from a coin machine. If you prefer to have a refreshing Sangria or other drinks you just order it from our lobby bar.
WASHING MACHINE
If you have booked a suite without washing machine you can use the public machine on LEVEL 2. Please bring your own washing powder. There is also a dryer. If you prefer you can use the clothes drying rack from the cleaning tools cupboard on each floor between suites 09 and 10.
Gym
The gym is located on the first floor, just above the lobby, with large windows facing the square that let in natural light. Here you will find a top range of gym equipment; treadmills, bicycles, and weight machines .
Gym access is complimentary for all guests with towels and water included.
Opening hours daily 08.30-21.00
P.S Hour
Every evening between 19.00 and 20.00 we celebrate the PS Hour with discounts on drinks and complimentary snacks.
A perfect start of the evening and to learn to know new friends in the hotel!
Welcome!
Transport
It's easy and cheap with bus and taxi in Mallorca. Just a few hundred meters from Palma Suites you will find Plaza España. Here you have the communication center for trains and busses on the island. From Plaza España you can take a bus or train to most of the villages on the island. Click here to see time tables.
If you go with the local buses in Palma you pay 2 euros the trip no matter how far you go. You cannot make a transit from one bus to anther with the same ticket. Try to have coins or at least not bigger bills than 20 €. Click here to see the time tables.
If you prefer to travel with taxi from the hotel just tell the staff in the reception and they will order one for you. Normally they come in a couple of minutes and the starting fee is between 3 to 4 € depending on the time of the day. The price to from the hotel to the airport is about 20 5 €. Not all taxis accept credit cards so if you don't have cash you have to ask for a taxi that accept cards.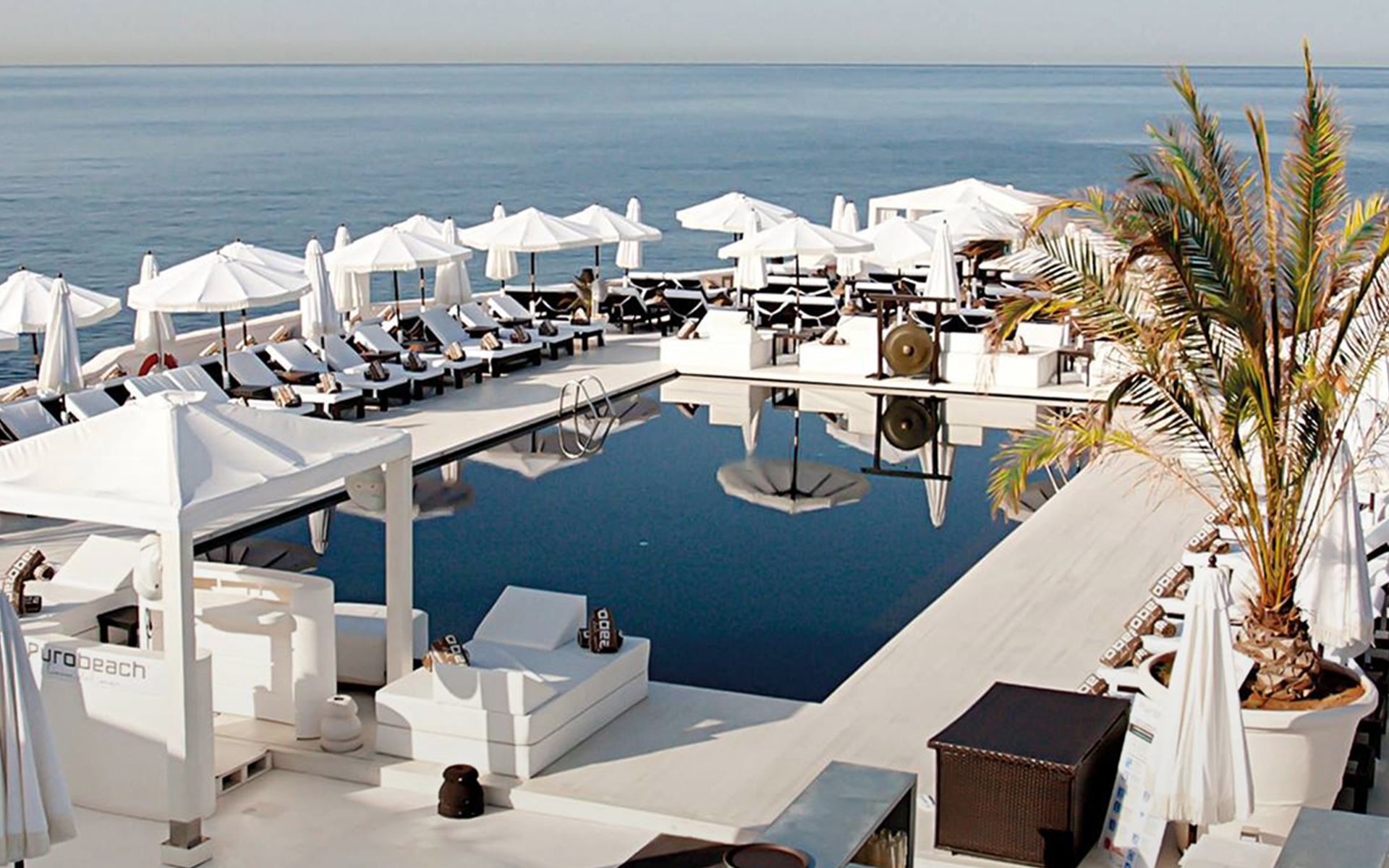 Beaches & Beach clubs
Beaches
The closes beach from the hotel is Anima Beach just in front of the Cathedral. If you continue further on in a south-east direction you will find the beaches Portixol, Ciudad Jardin and Playa de Palma. All these beaches are good on a hot day and when you want some refreshing wind.
On the opposite , if you would like a beach protected from the wind we recommend the Illetas beach, a beautiful cove situated nort-west from Palma, about 25 minutes bus drive from Plaza España.
If you rent a car you can discover some of the most popular beaches on the island. We would recommend you the south-east side and the beaches Cala Llombards, Calo Des Moro and Cala Mondrago. All of them are quite small with white sandy beach and crystal-clear water.
All beaches have one part where you can rent sunbeds and parasols and another part where you can put your towel direct on the beach. Most of the have several restaurants and bars service.
You can of course borrow your beach towel from the Palma Suites reception!
Beach Clubs
There are several beach clubs on Mallorca. On the beach club you pay a fee for a sunbed and parasol and get access to all facilities like dressing room, toilets, showers, restaurant and bar. We recommend the beach clubs Grand Folies closed to Puerto Andraxt and Mhares Sea Club in Puig de Ros. Both clubs with pool and bathing in the sea from the rocks with amazing views and crystal-clear water. To get there you need a car or about a 25 minutes ride in taxi.
If you would like to visit a beach club closer to the hotel you have the Puro Beach in Illetas or Puro Beach near Can Pastilla.
Restaurants
Palma has a large selection of restaurants and bars. You can choose from the simple Tapas restaurant to restaurants with Michelin stars. Here are some tips on places we like.
Tapas
La Rosa Vermuteria– very popular, no table Reservations, try the Pulpo a la brasa and the Chuleton, Bar España, wide selection of Pinchos and great tapas dishes.
Gaudeix – small and nice tapas bar with great Huevos Rotos con solomillo
Casa Gallegea – great tapas menu, don't miss the Galician grilled octopus
Meat
Patxi – genuine Spanish meat and Tapas restaurant in St. Catalina
Sa Farinera – typical Spanish countryside barbeque restaurant
Meson La Rueda – in Genova, Argentine meat restaurant in a rustic setting.
Fish
Can Manolo – great fish, nice staff and decoration
La Parada de Mar – chose your own fresh fish from the bar and they cook it like you want it
El Bungalow – nice restaurant situated on the beach of Ciudad Jardin
Pasta / Italian
Ribello – situated in the old town in Palma (La Lontja).
La Perla – Emilio Ingrosso with one restaurant in St. Catalina and one in Can Barbará
Piadina e vino – local restaurant on the beach walk in Molinar
Fine dining
Emilio Innobar – Mexican-Asiatic- Mediterranean fusion.
Canela – Mediterranean – Asiatic fusion
Adrian Quetglas – One star Michelin restaurant with a 6 courses set menu for 60 €.
Lunch
Only a couple of minutes' walk from Palma Suites you will find an excellent lunch restaurant called D Menu. The restaurant is open Monday-Friday from 09.00-16.00 and the owner Adrián Quetglas also run his gourmet restaurant Quetglas with one star in the Michelin guide. D Menu offers great lunch menus from 10 to 20 euros.
Just around the corner
Just less than a minute walk from Palma Suites there are some really nice restaurants.
At the Plaza Raimundo Clar you find this 3 places;
La Vieja – nice Gran Canarian tapas restaurant
Raimundo Burger – great home made burgers with different flavours.
Kasui – Japaneese grill restaurant
.
Other good choices nearby
Quina Creu – good food in a nice environment.
Koa – nice and popular restaurant in the La Lontja area.
nightlife
Almost all nightlife is located to Paseo Maritimo. Here you will find music bars, pubs with live music and discos. The most famous disco is Titos with 3 different dance floors divided on 3 different floors and several VIP areas.
If you like jazz music you should visit The Blue Jazz Club on the rooftop of Hotel Saratoga. They have live band every Thursday, Friday and Saturday.
La Ruta Martiana is Palma's weekly Tuesday tapas route taking place just outside the front door of the hotel. The word 'Martiana' is a play on words referring to the Spanish word for Tuesday, 'martes', and also meaning Martian.
Participating bars offer a tapa and a drink for €2-3. The most common form of tapa is actually the basque 'pintxo'. A pintxo is a tasty morsel of meat, fish, seafood, sausage or cheese skewered to a piece of bread with a toothpick. The drink is usually a small measure of wine, beer or Menorcan gin with lemon. One of the most popular bars are our neighbour Molta Barra.
Sport & activities
Bicycle
Rent a bike and discover the cost line from Palma to Arenal. The 15 km long bicycle path is offering a lot to see and you can stop in many beaches, bars and restaurants during the ride.
Golf
There are 23 golf courses on Mallorca. We will recommend Arabella Golf Club with three 18 holes courses only about 10 minutes' drive from Palma Suits. If you are interested to play, we can help you with tee time reservation. They also have rental clubs.
Tennis
If you would like to play a game of tennis, we can recommend the Palma Sport & Tennis Club in St. Catalina. They have 5 clay courts, swimming pool, gym and restaurant.
Padel
Pins Padel offers 16 courses with 9 courses covered with roof. The club also have bar and restaurant service and a small pool.
Vandring
The west part of Majorca is extremely hilly and the highest mountain is over 1400 m high. This is a fantastic landscape for walking tours, with a fabulous view over the whole of Majorca and its corresponding islands in the Balearics.
We can help you to reserve a mountain guide for a hiking excursion. Normally you leave from the hotel at about 10.30 and you are back to the hotel again at about 15.00. Prices depending how many  persons you are.
Water sports
Many beaches offer some kind of water sport but we recommend El niño situated at the beach of Can Pastilla. They have rental of Stand up padel, windsurf, Kite surf and kayaks. You can also get lessons from an instructor.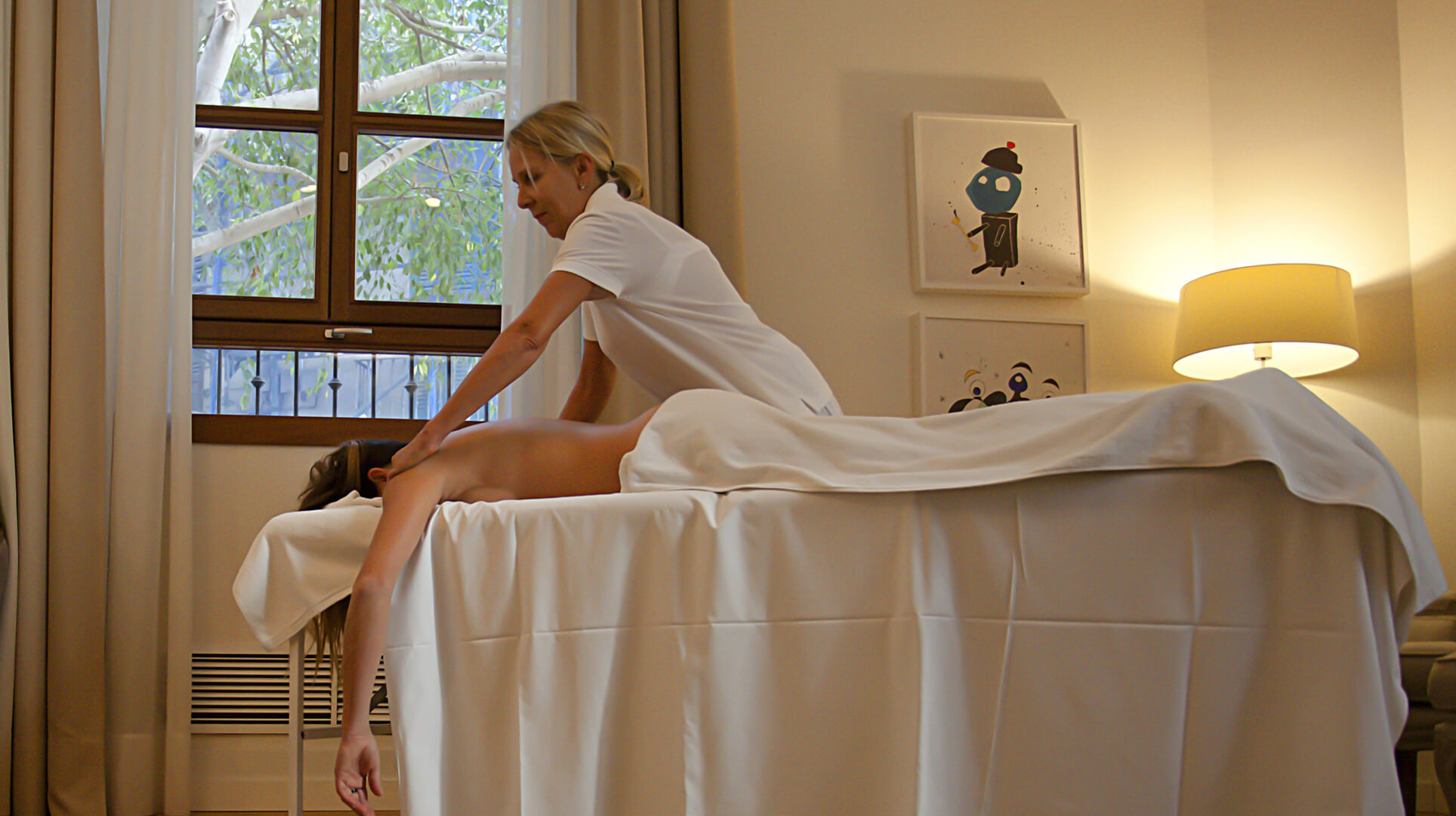 Massage
Our very own Maria brings her massage bench to your suite, she has over 30 years of experience and offers a wide range of different massage treatments;
Aroma massage: A relaxing massage with almond oil and essential oils from the island such as lavender, rosemary and orange. 1 hour =  60€
Lymphatic Drainage Massage: Tired legs? This massage is great for problems with retention of liquids. It eliminates toxins and improves circulation. 1 hour = 60€
Ayurveda Massage: From northern India. The right products are chosen depending on your type of "dosha". 1 hour = 60€, 1,5 hours 80€
Cellulite Treatment:Purify: eliminate and regenerate. Sea salt, exfoliation and cellulite massage. 1 ¼ hour, 70€
Face Massage: Complementary with other Massage treatments. 30 min, 35€
Markets
Mallorca's markets are an excellent way to get to know the island and the locals.
Every day from 9.00 – 13.30, there are several markets, the most important one is the market in Pollensa on Sundays. This market is visited by thousands of people coming from all part of the island.
Other good markets to visit are the markets of Santa Maria (also on Sundays), Sineu (on Wednesdays) and Inca (Thursdays). The markets in Mallorca are an excellent place to shop for flowers, fruit and vegetable, local produce such as Mallorcan sobrassada or butifarron and cheese.
There are usually also market stalls offering handicrafts, leather bags, handmade jewellery, accessories and clothes. A complete list of village markets can be seen below:
List of Markets in Mallorca
Monday: Calvià, Lloret de Vistalegre, Manacor, Caimari, Montuïri.
Tuesday: Alcúdia, Artà , Campanet, Porreres and Santa Margalida.
Wednesday: Andratx, Capdepera, Felanitx, Deià, Petra, Port de Pollença, Santanyí, Selva, Sencelles, Sineu, Vilafranca de Bonany and Colònia de Sant Jordi (middays).
Thursday: Ariany, Campos, s'Arenal, Consell, Inca, Pòrtol, Sant Llorenç de Cardàssar, Ses Salines, Sant Joan, Lloseta.
Friday: Alaro, Algaida, Binissalem, Can Picafort, Llucmajor, Maria de la Salut, Pont d'Inca, Son Servera and Sa Cabaneta.
Saturday: Búger, Bunyola, Cala Rajada, Campos, Costitx, Esporles (first Saturday of the month), Palma, Santanyí, Sóller, Santa Eugènia and Santa Margalida.
Sunday: Alcúdia, Consell (Flea Market), Felanitx, Llucmajor, Muro, Pollença , Porto Cristo, Santa Maria del Camí, Valldemossa and Sa Pobla.
Mercado Ecológico de Palma – Tuesdays and Saturdays 08.00-14.00.
Mercat de L'Olivar
Mercat de l'Olivar is the largest fresh market in Mallorca and only a 5 minutes' walk from Palma Suites. A visit to the huge market hall is an experience that appeals to all the senses. Stalls selling numerous types of Spanish sausage and cheeses as well as fruit stands with bulging displays lined the aisles of the market.
Here you get everything you need for the kitchen. Mallorcan products such as oranges, almonds, aubergines and olives are also available, as well as exotic spices, wine from Andalucia and pasta from Italy. Fresh fish and seafood are served in a separate hall. Scallops, cod and fresh oysters are offered by the traders as well as anything you might need for sushi.
shopping
If you like shopping then you have chosen the perfect location of hotel. Palma Suites are situated just a minute from one of the shopping streets, Via Sindicato and some minutes more to El Corte Ingles.
El Corte Ingles is Spain's answer to House of Fraser, Selfridges, NK etc. There are two stores in Palma, the second one is smaller situated on Avenida Jaume III is also open on Sundays. El Corte Ingles are selling the latest accessories, men's & women's fashions, homewares, electrical goods and supermarket, it has pretty much all you need under one roof. Opening hours are 9.30am to 9.30pm.
In the city center of Palma you will find a lot of great shopping. Popular streets are Passeig del Born, Carrer de Sant Miguel and Jaume III.
There are two major shopping center in Palma, Porto Pi and FAN. They are modern centers with a wide range of shops and restaurants. Opening hours from 09.30 to 21.30 (closed Sundays).
Mallorca Fashion Outlet is a large outlet shopping mall 10 minutes from Palma – just off the motorway and also accessible by train on the mainline to Inca.
The shops offer their latest collections as well as discounted stock from previous seasons (30-70% reductions). You'll also find a multiplex cinema & IMAX, plenty of food outlets, a ten-pin bowling alley and a large play area for children (Monkey Park). It's open every day, including holidays.
sights
La Seu Cathedral
The stand-out landmark building of Palma
Tradition has it that a storm arose as Jaume I was sailing towards Mallorca. He vowed that if he landed safely he would build a great church in honour of the Virgin on New Year's Day 1230, a day after the fall of Palma, the foundation stone was symbolically laid on the site of the city's main mosque. Work continued for 400 years – and had to resume in 1851 when an earthquake destroyed the west front. More touches were added this century by the Catalan architeat, Antoni Gaudi.
Check Opening hours HERE
Palace de l'Almudaina
A royal palace has stood on this site next to Palma's cathedral since the Muslim walis (governors) built their alcazar soon after the Arab conquest.
It was converted into Gothic style under Jaume II, but elements of Islamic architecture remain – like the Moorish arches seen from the seafront, lit up at night like a row of lanterns. Inside you'll find tapestries, paintings and furniture from different time periods throughout its history.
The courtyard, laid out in 1309 and flanked by palm trees, is at its best in late afternoon when the sun falls on the cathedral towers overhead. Just off the courtyard is the royal chapel, Capella de Santa Ana.
The S'Hort del Rei gardens beneath the palace make a pleasant place to sit beneath the fountains watching the world go by. Look out for the Arc de la Drassana, once the gateway to the royal docks; near here is a statue of a hondero or Balearic slinger. The gardens were rebuilt in the 1960s, forcing the demolition of several houses; their best known landmark is Joan Miro's Egg sculpture, which few people can resist sticking their heads through.
Click here for opening hours and entrance
Banys Arabs (Arab Baths)
 These 10th century baths are virtually all that remain of the Arab city of Medina Mayurqa (now known as Palma).
They were probably part of a nobleman's house and are similar to those found in other Islamic cities. The tepidarium has a dome in the shape of a half orange, with 25 round shafts for sun light, supported by a dozen columns.
Notice how each of the columns is different – they were probably salvaged from the ruins of various Roman buildings, an early example of recycling. Hammams were meeting-places as well as wash-houses, and the courtyard with its cactus, palm and orange trees would have made a pleasant place to cool off after a hot bath.
Open: 9.30AM – 6.00PM all year round. There is a small entry fee.
Basilica de Sant Francesc
The facade of this 13th century church in Palma (remodelled after it was struck by lightning in the 17th century) is typically Mallorcan – a massive, forbidding sandstone wall with a delicately carved postal and a rose window at the centre.
You enter through lovely & peaceful Gothic cloisters with orange and lemon trees and a well at the centre. Inside the church is the tomb of Ramon Llull (1235-1316), the Catalan mystic who became a hermit following a failed seduction attempt and was later stoned to death attempting to convert Muslims in Tunisia. His statue can be seen on the Palma seafront.
Outside the basilica is a statue of another famous Mallorcan missionary, Fray Junipero Serra, who once lived in the monastery here. The streets behind the church, once home to jewellers and Jewish traders, are under going a bit of a face lift with new community and organic restaurants.
Open: 9.30AM – 1.00PM, 3.30 – 6.00PM
Castell de Bellver
A well-preserved 14th-century royal fortress with fragrant pine woods, an interesting museum and superb views over Palma Bay.
Looking up at this castle, so perfectly maintained, it is hard to believe that it has been standing for almost 700 years. Begun by Jaume II in 1300 and built by Pere Salva, the architect of the Almudaina Palace, it is unique among Spanish castles in being entirely round.
Three large towers surround a central courtyard, connected by an arch to a free standing keep. The courtyard itself is on two levels, the ground floor with semicircular arches and a flat roof, the upper level with Gothic arches and rib-vaulting. For the full effect, walk around the moat then climb onto the roof and look down into the courtyard to compare the contrasting styles. While you are there, look out over the city and the bay for one of the best views in Palma. Bellver means 'lovely view' in Catalan.
For many centuries the castle was used as a prison; Jaume III's widow and sons were imprisoned here for most of their lives. These days it contains Palma's museum of municipal history, which traces the development of the city through its artefacts, with pottery from Talaiotic, Roman, Arab and Spanish periods.
Mallorca Free Tour
One of the best ways to learn about the historic Palma is to join a guided city walk. Mallorca Free Tour offer a tour in three languages: Spanish, English and German, it takes around 2 hours and starts at 11:00 in front of the tourism office just below the Cathedral. You will walk around the city centre and enjoy the most important attractions and buildings in Palma
o          Catedral
o          Palacio de la Almudaina
o          Ayuntamiento
o          Paseo del Born
o          Castell de Bellver
o          La Lonja
o          Consulado del Mar
o          Baños árabes
o          Palau March
o          Plaza Mayor
o          Iglesias (San Miguel, San Francesc, etc…) Famosos patios
o          Mercado del Olivar
o          Calle San Miguel y Plaza España, where the tour will end.
Read more about Mallorca Free Tour here
http://www.mallorcafreetour.com/index-en.html
Fundacio Pilar i Joan Miro
The painter and sculptor Joan Miro spent most of his life in Barcelona, but both his wife and mother were Mallorcan and he always longed to return to the scene of his childhood holidays to draw inspiraton from what he called "the light of Mallorca".
 In 1956, aged 63, he bought a house and studio in Cala Major. He lived here until he died in 1983 after which the house was enlarged to hold a permanent exhibition of his works.
The collection includes more than 100 paintings, 25 sculptures and 3,000 studio pieces, but only a small amount is displayed at any time. The paintings are almost childish, all vivid splashes of bright primary colours, influenced by his love of peasant traditions and his fascination with siurells (clay whistles).
Anyone tempted to remark that their child could do better should take a look at the heavily realistic work that Miro was producing aged eight – the fantasy came later. Works on display include the draft for UNESCO's Mural del Sol in Paris. Glance into Miro's studio, left untouched since his death, with work in progress, open tins of paint and black stains all over the floor.
The gallery is closed on Mondays. Check opening hours here
Excursions
Bus
If you are short in time and want to see as much as possible of Palma you can take the hop-on hop-of bus. The bus takes you around Palma and surroundings and guide you in 8 different languages.
Get more information in the reception.
Train
Take the old train from Palma to Soller on the north west coast. The train starts at Plaza España, only a few minutes' walk from the hotel. We recommend to take the bus back again instead of slow train back and forward.
Boat
Take a sail tour with catamaran a explore Palma from the sea side. You can choose between a day tour from 10.00-15.00 or evening from 16.00-20.30. There will be stop for swimming and food and drinks are served on board.
Take the boat from Puerto Soller to Sa Calobra. You will explore a fantastic coast line where the mountains dives in to the sea. Sa Calobra has, since 2011, been a part of UNESCO World Heritage over landscapes.
Car
A very nice day trip by car is to take the round-trip Palma-Valdemossa-Deia-Puerto Soller-Soller-Palma. Start after breakfast and make your first stop in Valdemossa for a coffee or maybe a visit at the Chopin museum.
Next stop in the art village Deia, if you are travelling between May-September, go down to Cala Deia for a lunch by the sea (make a reservation before). Go to Puerto Soller for a stroll on the boardwalk.
Before taking the tunnel back to Palma, make a stop in the old charming town of Soller.
Parkering
Located just 70 metres from Palma Suites is a garage offering 24-hour parking including special deals for long stay guests. Ask in the reception for our daily and special weekly parking rates.
Bittans Food
Get pre-ordered meals directly to your door!
Booking and payment one week before.
Free delivery in Palma. For more info and prices visit: Bittans Food
Payment in advance via Bizum, only works between Spanish mobile phones or in a bank account that you receive when you make the booking.
We can also arrange private dinners or lunches in the Palma Suites bistro – small groups only.
For reservations and info please contact the reception.